Fishing is nothing short of FANTASTIC at Port Renfrew Marina right now! Chinook fishing is as good as it gets. Limit catches and tyee size salmon are still hitting the docks every day. We are seeing up to 4 springs a day over 40 pounds and this trend should continue well into September. Anchovies and teaser heads in the Purple Flash UV, Chrome Tiger Prawn and Purple Haze seem to be the hot lures right now. The weather lately has been close to perfect, very calm seas for the most part and very little of that August fog we usually get. Check out the list of notable catches, it really says it all especially since we couldn't possibly get them all recorded. Coho are still out at Swiftsure and are growing larger daily. There should be lots of Coho over the 20 pound mark by next month.  Desi Hatchard of viciousfishcharters caught what we believe to be a possible record of a 26 pound hatchery Coho this past week at the Bank along with a spectacular catch of other salmon and halibut.  See pic.
Chicken Halibut are at the J bouy right now. Someone soon will start anchoring for the "barn doors" as they haven't been targeted for quite a while. HALIBUT REGULATIONS UPDATE: as of August 21, the daily limit has been increased to 2 per day. Possession limit remains 2 in total.
Crabbing has slowed down as usual for this time of year but if you are persistent you will get them.
Notable Catches:
Desi Hatchard of Vicious Fish Charters

26 pound Hatchery Coho!

Norm Ricketts        33                  Dan Burkmar        30

Adam Dorey           30                  Marty Husten       30   33
Darren Daly            30                  Wayne Fowler      38  40
Brad MacDonald     40 Corey Kovacs       42
Grant Graver           31                  Ian Batty         32  32    39
Bud Watt                 32                  Mark Collicott     31
Neil Hansen            36                 Al Auringer   38      41 on his Birthday!
John Raynak on Ace of Kings Charters  40 Brian Lee     36
Clayton Wright       30                  Dave Tobacco      35
Victoria Grady on No Banana's Charters 32         Dan Harlow on No Banana's 33
Ian White of Island Outfitters Charters  40 30 32 34 36.5
Trevor Zboyvoski of No Banana's Charters 41 31 38
Bard Holland on Ace of Kings Charters   46 Nicole Burkmar     40.5
Desi Hatchard of Vicious Fish Charters 32   32   36  39
Drew Hensen       36                        Mike Graham  35
Cory Lowe            34.5                    Jayden Poland & Fred McCallum  31  31
Asit Mazumber     35
Stormriders/Scotty   42 Norm Patmore   32.5
Troy Halliday of 360 Charters 30   30
Bob Mathews on Ace of Kings Charters     39
Charlie Holman    40 Mike Talarico       45.5
Mary Dice      30                                Glen Miller      38
Al Marsden    30.5                              Sandy Kent   42
Art Moysychyn   41.5 Ian Bateson    30   31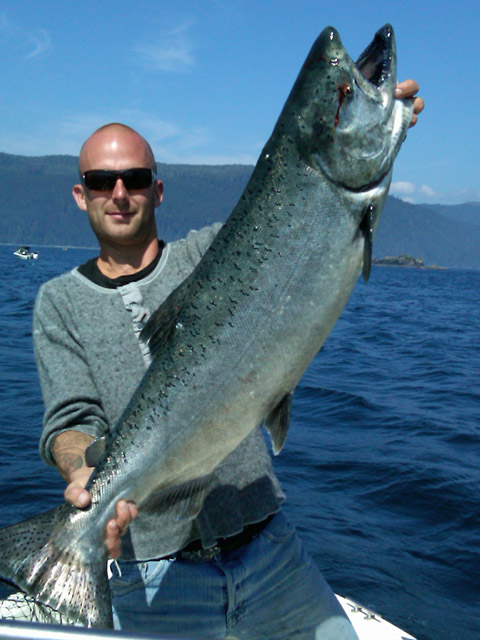 Important Dates: Port Renfrew Marina is having our annual Labour Day Derby coming up. The dates are Sept. 5th and 6th. This event is very important to help raise money for the local Renfrew salmon hatchery. This will be our 12th year and tickets are still $50.00 a rod and includes a t-shirt, dinner, beverages, and a live band. Tickets will be available by next week at the marina. There is also a bullhead derby for children 12 and under with prizes and goodie bags. The marina is raffling a 9.9 HP APS outboard motor, 4 stroke all fittings exact to Yamaha. We also have 2 beach day salmon fishing charters for a date after Sept. 15th. These are being donated by Ian White of Island Outfitters and Trevor Zboyvoski of No Banana's. Win this and take some friends or family for a day of fun and fish.  There will be many other prizes, raffles and auctions so don't miss a chance to have a good time and help a good cause.
Another big date is the Coho Derby on Oct. 3rd and 4th. This should be an exciting derby since the Coho are so prevalent already and growing every day. This is a winner take all derby and this year the entry fee is $25.00 with $5.00 of it going straight to the local hatchery. Check the site for previous years winners.
Please Note: Many of our customers arrive late in the night. If you are one of them please register the following morning and if you are just launching you can pay your launch at the front office door where we have a launch box for your convenience.  Campfires are allowed at the marina.
Regarding Winter Storage: For anyone wanting to leave their unit for storage over the winter they must pay for the storage and or power in advance before we close for the season. Please come to the office and we can discuss this with you.
Bud & Rex